If you live in India, there's probably nothing you love about summers; not even those iced drinks are motivating enough to bear the sun. However, what stops us from going into 'Hulk' mode in summers are – mangoes. The sweet, juicy goodness of the king of fruits (we feel you Katrina)!
While your go-to mango dishes would be shakes and aamras, we take our mango obsession to a delicious level and share a whole meal menu with you. From savoury curries to vegan options, check out the scrumptious and super healthy mango recipes here. A quick reminder though, don't read this when you're hungry.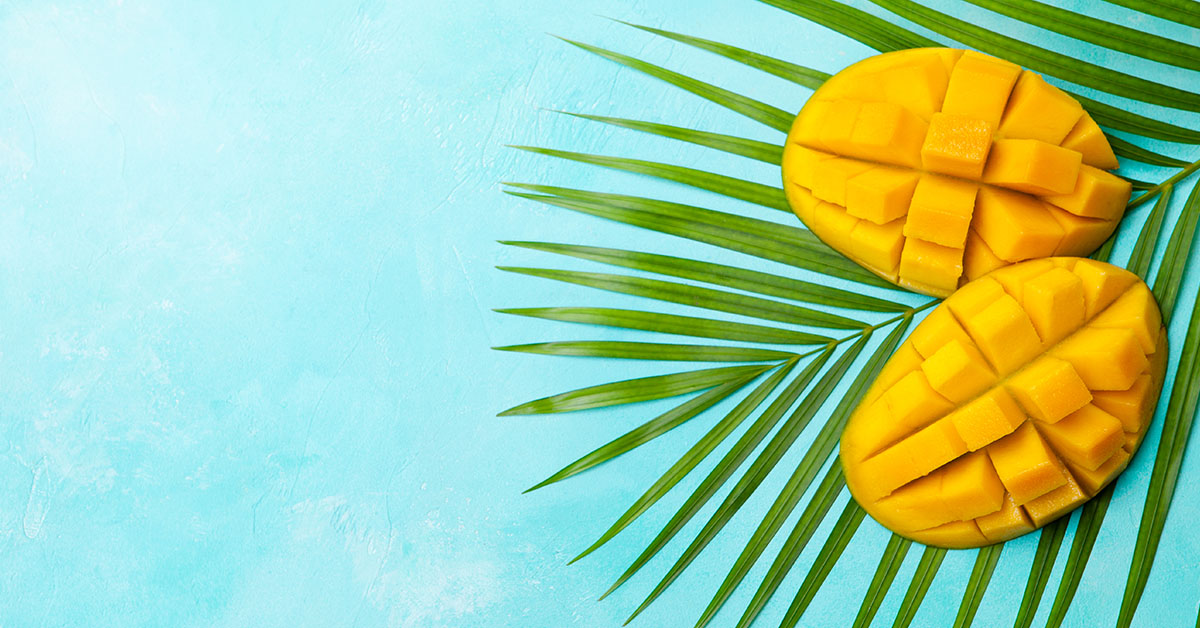 Mango Spring Rolls
Time: 30 minutes
Serves: 6 rolls
Ingredients
3 cups arugula leaves, roughly chopped
2 ripe mangos, sliced into thin strips
1 red capsicum, sliced into thin strips
2 jalapeños, sliced into thin strips without membranes
4 green onions, chopped
6 spring roll wrappers
Steps
Fill a shallow pan with warm water. Place one spring roll wrapper in water for 20 seconds. Remove it and place it on a plate. 

Cover 1/3rd of the lower edge of the wrapper and put approx ½ cup arugula. Top with 4 slices of mango, capsicum, jalapeno, and sprinkle some green onions.

Fold over one long side of the wrapper to enclose the filling, then fold the short sides like a burrito and roll it up to seal the remaining portion. 

Repeat the same with other wrappers. Serve it with your choice of sauce.
Creamy Chicken and Mango Curry
Time: 1 hour
Serves: 6
Ingredients
12 chicken thighs, boneless
2 tbsp sunflower oil
2 onions, 1 quartered, 1chopped
2 tsp turmeric
2 ripe mangoes, scraped
100 gms ginger, chopped
6 tbsp korma paste
2 tsp cumin, grounded
1 tbsp black onion see
400 gms light coconut milk
600 ml chicken stock
Salt, to taste
Steps
Add the oil to a hot frying pan.

Add the chicken thighs, turmeric, and salt. Cook till thighs become brown, then remove from the pan.

To the same pan, add the chopped onion and cook until soft.

Put the scraped mangoes, korma paste, ginger, and quartered onion in a mixer and grind until it becomes a paste. 

Add the pasta to the pan, and cook till softened. 

Add cumin and onion seeds and turn up the heat for a couple of minutes. 

Add the previously cooked chicken thighs to the pan.

Mix it well by adding coconut milk and chicken stock.

Let it simmer, cover, and cook for approx 20 minutes.

Add a few drops of water to make it saucy.

Finally, add the remaining mango and stir well while shredding the chicken with a fork.

Garnish it with coriander and serve with your favorite bread.
No-Bake Mango Cheesecake
Time: 1 hour
Serves: 6
Ingredients
250 gm cream cheese
170 gm cream
¼ cup sugar
¾ cup mango puree
1 tbsp gelatin (or agar, for vegetarians)
¼ cup hot water
1.5 to 2 cups cracker biscuits
⅓ cup unsalted butter, melted
Steps
Chill small glasses in the refrigerator while preparing the cake.

Grind the crackers in a food processor.

Add melted butter to it and grind again till it becomes smooth.

In a bowl, add cream cheese, cream, and sugar. Mix it well.

In another bowl, mix the gelatin and hot water till it completely dissolves. 

Mix the gelatin into the mango puree.

Add half of this mango puree to the cream cheese bowl. Stir gently.

Now, to the refrigerated glasses, add the ground crackers as the base.

To it, add the cheesecake mixture, until the glass is ¾ full.

Return the glasses to the fridge for 15 mins.

After removing the glasses from the fridge, add the remaining mango puree to get the top layer. 

Refrigerate for a few hours and it's ready to eat.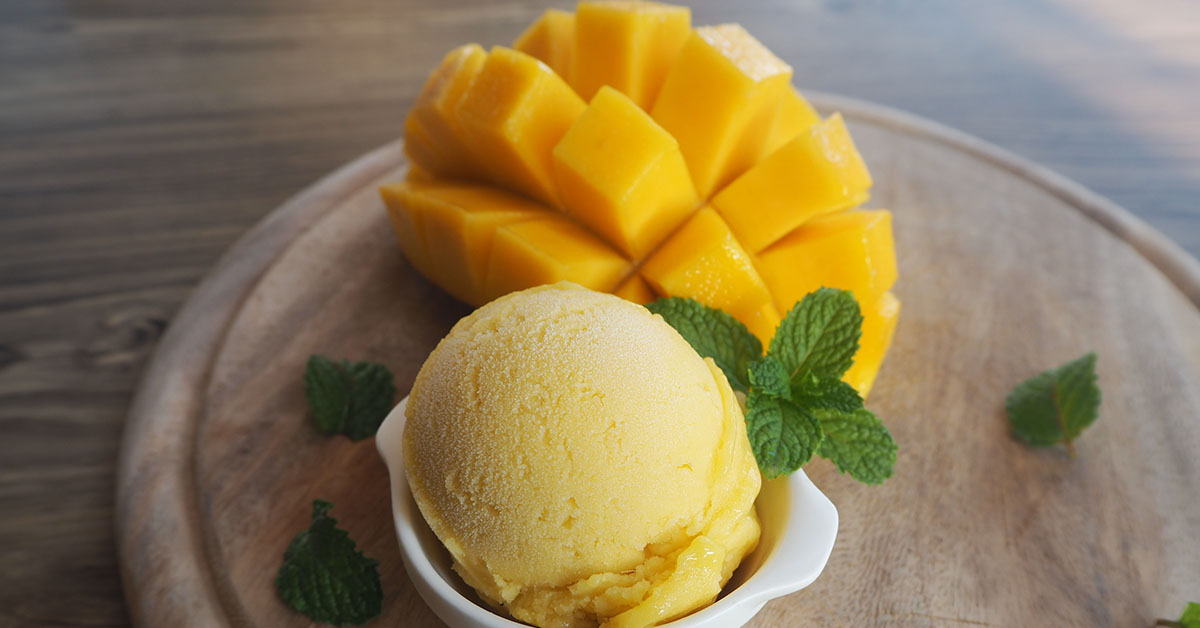 Dairy-Free Mango Ice Cream
Time: 1 hour
Serves: 5
Ingredients
3 mangos, chopped
300 ml coconut milk
Steps
Freeze the chopped mangos for 2 hours.

Blend these frozen mangos with coconut milk.

Pour it into a tray.

Freeze for 3-4 hours and your dairy-free mango ice cream.
There, your summer blues are now sorted with these lip-smacking mango recipes.