Description
Get a good gut feeling always. Setu Your Gut is a daily probiotic supplement that helps promote smooth gut function for optimal digestive balance, gut regularity and immunity. It is formulated with 9 potent, highly beneficial probiotic strains for overall gut health and reduce symptoms of constipation, gas and bloating while regulating immune cells' function. For best results, take one supplement after your main meal to give your digestion and immunity a well-earned boost.

Helps Reduce Constipation


Supports Healthy Bowel Movement

Inhibits Growth Of Harmful Gut Bacteria
What To Expect?
Helps Reduce Constipation
Setu Your Gut works to improve your gut microbiome, by adding 'good' bacteria to your gut. The presence of harmful bacteria can result in various issues, one of them being constipation. Probiotics help clear the system by aiding digestion and better absorption of nutrients.
Probiotics help reduce inflammation in the body, thus boosting overall immunity. Setu Your Gut probiotic capsule contains 9 different strands of good bacteria responsible for improving stomach health and is directly linked with improving the body's resistance to the development of diseases by building stronger immune response.
Setu Your Gut keeps your stomach healthy and promotes healthy bowel movement. It helps in the management of chronic gastrointestinal issues like irritable bowel syndrome (IBS) and acidity by restoring the gut's natural microbiome balance. Additionally, it helps ease an irritated stomach and manage symptoms of diarrhea.
Essential Probiotic Strains
Your Gut contains nine different strains of probiotics that include various types of lactobacillus and bifidobacterium. The former is responsible for easing an irritated stomach, reduce vaginal infections, reduce acne, fight oxidative stress, prevent skin irritations, soothe gastrointestinal issues. The latter is responsible for boosting the immunity and antibodies in your body, along with managing constipation and lowering the stress levels.
Ingredients
Check out the potent ingredients in this product
Product USP

15 billion CFUs per capsule
Billions of probiotics packed in one capsule help deliver effective results for your gut health. While most probiotics lose their potency in the packaging and storing stage, Your Gut is fortified with probiotics that have a high efficacy and are in a fully active state until expiry.

Zero Side Effects
This product is made with high-quality ingredients and does not have any side effects.

Clinically Studied
All the ingredients used in the formula have consistent supporting scientific research for their efficacy.

Multi-strain formulation with benefits of 9 essential strains
As compared to probiotic foods such as yogurt, pickles, kombucha tea, and others, Your Gut offers nine times the benefit. This is because foods may offer the potency of a single strain, but this capsule packs 9 essential strains.
FAQs
Have questions? Refer to a comprehensive list of queries below.
Dosage
Take 1 Capsule after meal.
Storage
Store in a cool ray place (2-8 Degree Celsius). For optimum probiotic activity, store in refrigerator. To be stored out of reach children. Not to exceed recommended daily usage.
Caution
For adults only. Consult your physician before using this product if you are pregnant, lactating, trying to conceive, taking medication or have a medical condition. NOT FOR MEDICINAL USE. THIS PRODUCT IS NOT INTENDED TO DIAGNOSE, MITIGATE, TREAT, CURE OR PREVENT ANY DISEASE.
Declaration


What's Inside?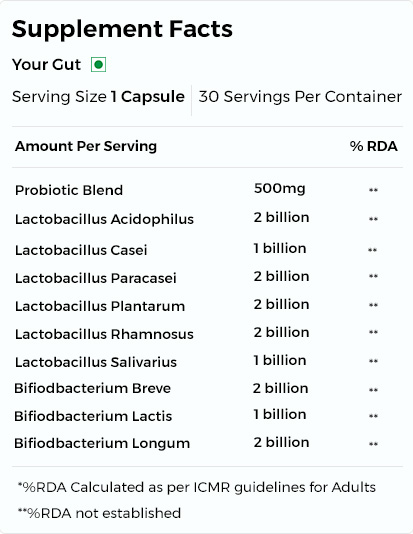 Similar Products
Here are a few other amazing Setu products with similar benefits.

Immunity

Fitness

Beauty
Boost your immunity with the antioxidant power of turmeric paired with MCT oil for higher absorption.
₹ 1100

Stress

Immunity

Beauty
Healthy liver detox supplement that helps reduce oxidative damage.
₹ 950