Description
Get your daily dose of immunity. Our plant-based capsule contains curcumin extract – which is the main ingredient of turmeric and is known to have anti-inflammatory benefits and ability to increase the amount of antioxidants produced by the body to boost immunity.
Curcumin is an active ingredient used in traditional medicine and has therapeutic properties such as being anti-inflammatory, anti-microbial and rich in antioxidants.
Setu Turmerich is formulated with our patented and clinically proven CurcuWIN® and MCT Oil. Our delivery system ensures 46 times higher absorption by the body vs any standard curcumin product in the market. We have added MCT oil for better absorption of curcumin.



Promotes Joint Mobility & Flexibility

Helps Boost Brain Function
What To Expect?
Boosts Immunity
In today's times it is important to build your immunity and help your body build a natural defence mechanism against disease causing viruses and bacteria. Curcumin, the active ingredient in turmeric has powerful anti-inflammatory antiseptic and anti-bacterial properties which help build immunity naturally.
Supports Healthy Skin
Turmeric has been used extensively in traditional medicine for conditions involving pain like cuts and wounds. Curcumin, the active ingredient in turmeric, helps accelerate healing and reduces inflammation. It also has anti-microbial properties and is an active detoxifier. Setu Turmerich aids in boosting skin health from within and helps slow down skin ageing.
Promotes Joint Mobility & Flexibility
Setu Turme Rich has concentrated power of curcumin that has anti-inflammatory properties. This supplement helps fight chronic inflammation in joints, relieving pain. Additionally, it aids in healthy ageing of joints and protection against daily wear and tear, keeping them flexible.

Helps Boost Brain Function
Setu Turme Rich helps boost DHA or docosahexaenoic acid synthesis in the body. DHA is a part of Omega 3 fatty acids (good fat) that are known to promote brain health in adults and children. DHA also helps slow down age-related brain diseases like Alzheimer's, as well as aids in dealing with mental health issues like anxiety and depression.
What Does Science Say?
Numerous studies have indicated that curcumin is beneficial to the immune system, and it interacts with immune cells to protect against immune-related diseases by modulating various immune cells, such as various T lymphocyte subsets, macrophages, dendritic cells, B lymphocytes, and natural killer cells.

Read more

Curcumin can be used effectively and safely to decrease pain severity in patients with osteoarthritis. It can be used alternatively to or concomitantly with NSAIDs. It can also improve physical function, flexibility and quality of life. Read more
Curcuminoids loaded, solid lipid nanoparticles cream has shown to improve hydration, skin wrinkles, melanin content, skin elasticity and was effective as an anti-aging preparation with acceptable safety. Read more
Curcumin has shown to reduce depression symptoms and has anti-anxiety effects. Read more
Ingredients
Check out the potent ingredients in this product
Product USP

Plant-Based Capsule VFILL Technology
Formulated with our patented and clinically proven CurcuWIN® and MCT Oil, our delivery system ensures 46 times higher absorption by the body vs any standard curcumin product in the market.

Zero Side Effects
This product is made with high-quality ingredients and does not have any side effects.

Clinically Studied
All the ingredients used in the formula have consistent supporting scientific research for their efficacy.
FAQs
Have questions? Refer to a comprehensive list of queries below.
Dosage
Two capsules daily.
Storage
Keep the bottle tightly closed and store in a cool, dry place (15-25°C). To be stored out of the reach of children. Not to exceed recommended daily usage.
Caution
For adults only. Consult your physician before using this product if you are pregnant, lactating, trying to conceive, taking medication or have a medical condition. THIS PRODUCT IS NOT INTENDED TO DIAGNOSE, MITIGATE, TREAT, CURE OR PREVENT ANY DISEASE.
Declaration



What's Inside?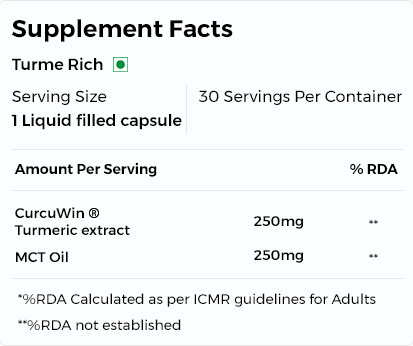 Similar Products
Here are a few other amazing Setu products with similar benefits.