Description
With Setu Turmerich Gummies, get your daily dose of immunity and antioxidants from the goodness of turmeric. Each yummy mango flavoured gummy contains curcumin which is the main ingredient of turmeric (Haldi) giving it its distinct yellow colour and anti-inflammatory benefits and ability to increase the amount of antioxidants produced by the body. Setu Turmerich Gummies contain patented UltraSOL Curcumin which is 46 times more bio-available over standard Curcumin.
Read more


Promotes healthy blood circulation


Reduces pain and muscle soreness
Ingredients
Check out the potent ingredients in this product
Product USP

46X Greater Absorption
Due to the low bioavailability in turmeric, curcumin is not absorbed by the body to its fullest. Setu Turme Rich Gummies increase the bioavailability of curcumin 46 times more with the help of patented UltraSOLⓇ Curcumin.

No Added Gelatin
Turmerich Gummies are made with pectin, which is a plant-based ingredient. These gummies as supplements are perfectly safe for vegetarians.

Zero Side Effects
This product is made with high quality ingredients and does not have any side effects.
FAQs
Have questions? Refer to a comprehensive list of queries below.
What Is In It?
Each Turmerich Gummy contains curcumin which gives turmeric its distinct yellow colour and anti-inflammatory benefits. Curcumin also increases the amount of antioxidants produced by the body. Turme Rich Gummies contains patented UltraSOLⓇ Curcumin which is 46 times more bioavailable over standard curcumin.
How Does It Work?
Curcumin helps in relieving pain because of its anti-inflammatory nature. It also protects from oxidative damage caused by free radicals thereby promoting healthy aging.
What To Expect?
Research studies on curcumin have demonstrated diverse benefits including reduced joint pain, reduced muscle soreness post-exercise, and improved cardiovascular function. Curcumin also enhances skin health by promoting collagen metabolism.
Dosage
For adults: chew 2-3 gummies daily.
For children up to 18 years: chew 1 gummy daily
For best absorption chew gummies after a meal
Storage
Keep the bottle tightly closed and store in a cool, dry place (15-25ºC).
To be stored out of reach of children.
Caution
Consult your physician before using this product if you are pregnant, lactating, trying to conceive, taking medication or have a medical condition.
Declaration



What's Inside?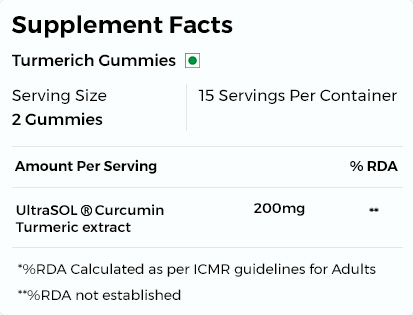 Similar Products
Here are a few other amazing Setu products with similar benefits.