Description
Power through your day. A daily dose of Eye Max works as a natural nutritional filter protecting your eyes from the damage caused by exposure to harmful blue light from digital screens and devices.
Our formula is packed with naturally sourced Lutein (known as 'the eye vitamin') which is clinically studied with proven benefits such as protection from blue light and improving visual memory and cognitive function.
Setu Eye Max contains clinically validated Lutemax2020® extracted from marigold flowers, along with bilberry and beetroot extracts, which are known to relieve eye strain, help moisturise dry eyes and reduce eye fatigue while enhancing visual acuity and night vision.

Filters Harmful Blue Light


What To Expect?
Filters Harmful Blue Light
The retina of the eye is particularly vulnerable to the blue light emitted from screens of mobile phones, tablets, laptops etc. Lutein and zeaxanthin, also known as 'eye vitamins', are a category of carotenoids that protect eyes against blue light. Additionally, they also help reduce eye strain and fight against retinal macular degeneration, blurry vision or cataracts.
After the end of a long day, you may often find that your eyes feel strained and tired. Setu Eye Max helps soothe and moisturise tired eyes and alleviate any signs of discomfort. Setu Eye Max is fortified with zeaxanthin and N-acetyl glucosamine, a precursor of hyaluronic acid, which lubricates the eyes. Additionally, it has bilberry extract that has anthocyanins which help boost low light vision and provides protection against age-related eye disorders.
Having trouble sleeping? Your digital devices may be the culprit. Frequent exposure to high energy blue light from digital screens can disturb the body's natural circadian rhythm. Setu Eye Max relaxes eyes and protects against the strain of the blue light of the screens. As a result, it helps support quality sleep, which is a must-have for your body to relax, recharge and take on the next day.
What Does Science Say?
In published clinical studies, Lutemax® 2020 has been proven to promote healthy eye function by an increase in macular pigment density and improvements in Photostress Recovery and Glare which are direct indicators of improvements in visual performance and reduced visual fatigue. Read more
Supplementation with Bilberry has shown improvements in subjective symptoms of eye fatigue, ocular fatigue sensation, ocular pain, eye heaviness, uncomfortable sensation, and foreign body sensation. Read more
N-acetyl glucosamine is a precursor of hyaluronic acid which lubricates the eyes by better corneal wound healing and increasing moisture content in the eyes. Read more
Ingredients
Check out the potent ingredients in this product
Product USP

Patented Lutemax® 2020
Lutein and Zeaxanthin are combined in the patented Lutemax®. The two most important carotenoids for vision are packed in a 5:1 ratio of Lutein to Zeaxanthin.

Clinically Validated
This product is made with high-quality ingredients and does not have any side effects.

Sustainably Sourced
The ingredient Lutemax® 2020 is extracted from marigold flowers which are sustainably sourced to help secure our supplies and reduces risk and volatility in our raw material.
FAQs
Have questions? Refer to a comprehensive list of queries below.
Dosage
Take one tablet daily with meals for optimal absorption.
Storage
Keep the bottle tightly closed and store in a cool, dry place (15-25°C). To be stored out of the reach of children. Not to exceed recommended daily use.
Caution
For adults only. Consult your physician before using this product if you are pregnant, lactating, trying to conceive, taking medication or have a medical condition. THIS PRODUCT IS NOT INTENDED TO DIAGNOSE, MITIGATE, TREAT, CURE OR PREVENT ANY DISEASE.
Declaration




What's inside?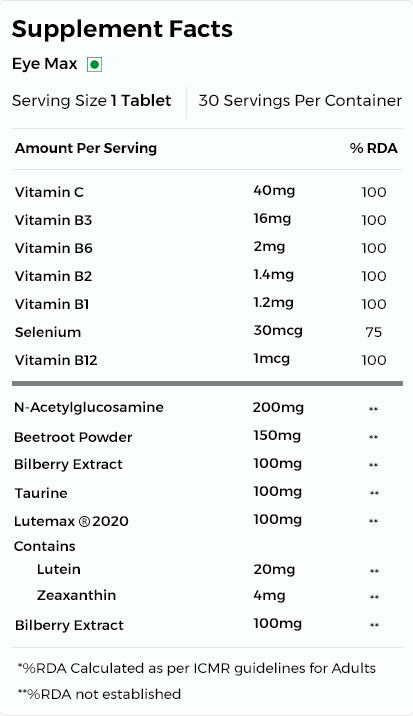 Similar Products
Here are a few other amazing Setu products with similar benefits.

Mind

Stress

Sleep
Protect your eyes from oxidative stress and damage from blue light.
₹ 450