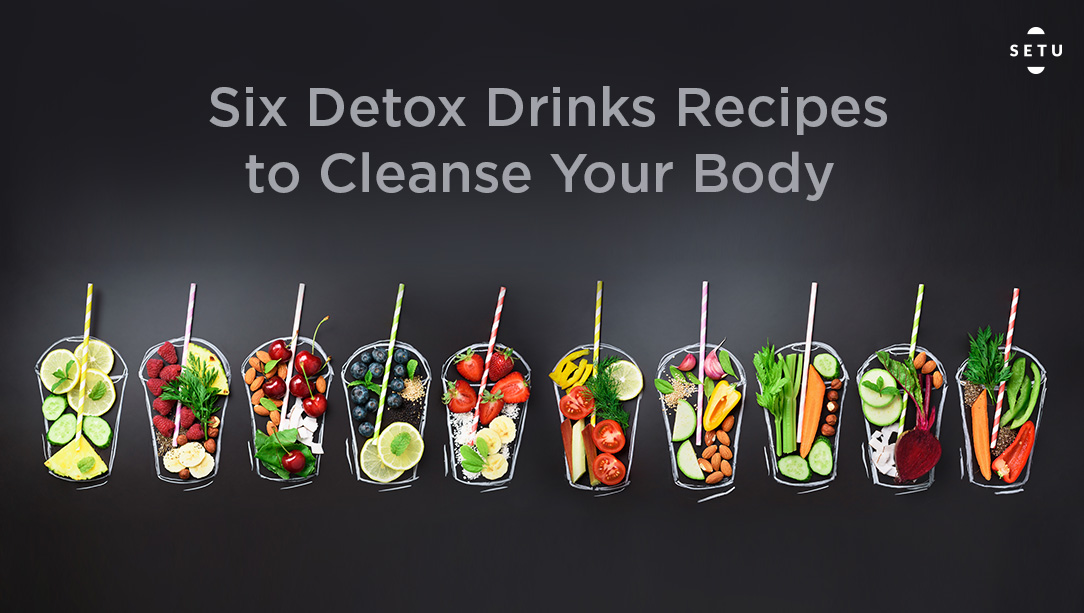 Detoxing or going on a cleanse has become very important given our hectic, stressful, binge-eating lifestyle. The heavily urbanized and increasingly toxic-ridden world we live in weighs on our health. The human body has several natural ways to process detoxification: the liver, sweat, urine, and feces. "But the exposure to heavy metals, preservatives, and pesticides has taken the average toxin consumption by human beings to an all-time high." 1 Exposure to such toxins could cause kidney damage, liver failure, skin cancer, lung cancer, and gastrointestinal issues. 2
While detox body drinks come in handy, it is no substitution for healthy eating. Supporting the body's natural cleansing system with clean and nutritious food is essential for the liquid to cleanse to work. It is recommended to eat healthy fats before going on a liquid cleanse. Eating fat tells your liver to produce more bile; with more bile, you can break down and excrete more toxins in your digestive tract. 3
Setu has created delicious body detox drink recipes that will not only quench your thirst and beat the summer heat, but also help flush out the toxins and improve the digestive tract & liver function! Read on to find a recipe you'd like to try!
WATERMELON & CUCUMBER SMOOTHIE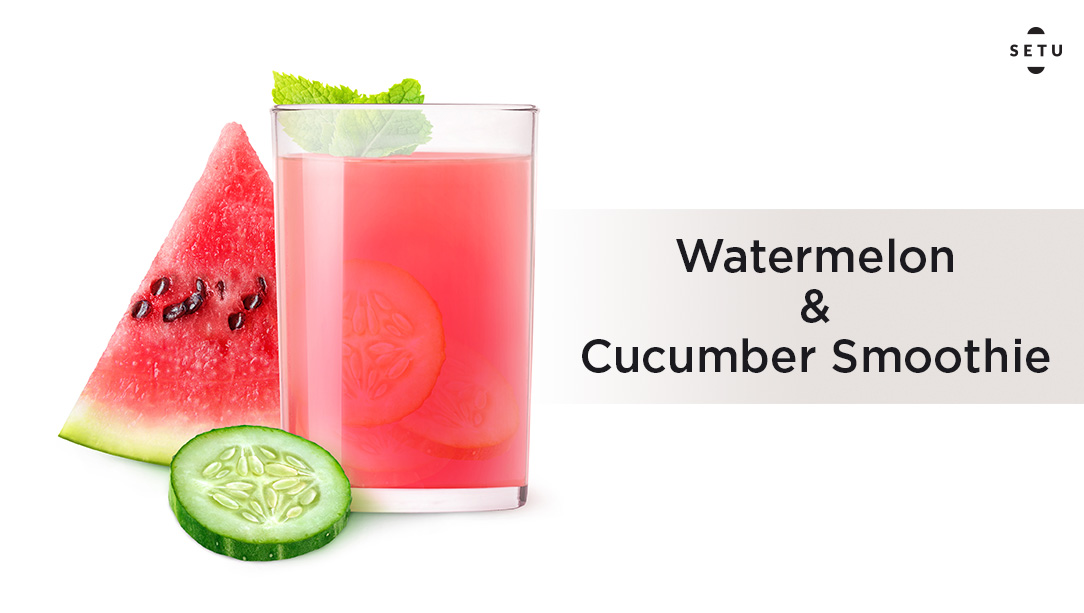 What You Need
½ Cup Watermelon Chopped
½ Cup Slices of Cucumber
Handful Coriander Leaves
Handful  Mint leaves
Dash of Black pepper
How To Prepare
Toss the chopped watermelon and cucumber slices into a food processor. Add a few coriander leaves and a few mint leaves and give it a spin. Add roughly ground black pepper and ice before drinking.
Benefits
Cucumber: Flushes out toxins and rehydrates your cells
Mint: Aids the smooth flow of bile from the liver to the small intestine to break down fats. It also relaxes the stomach muscles and adds flavor
Watermelon: Contains citrulline that helps the kidneys in flushing out ammonia
Coriander leaves: Rich in vitamins A and K. They treat indigestion, cure skin, and menstrual disorders, and maintain blood sugar and cholesterol.
Black pepper: Improves digestion and is a good source of vitamin E
GREEN DETOX SMOOTHIE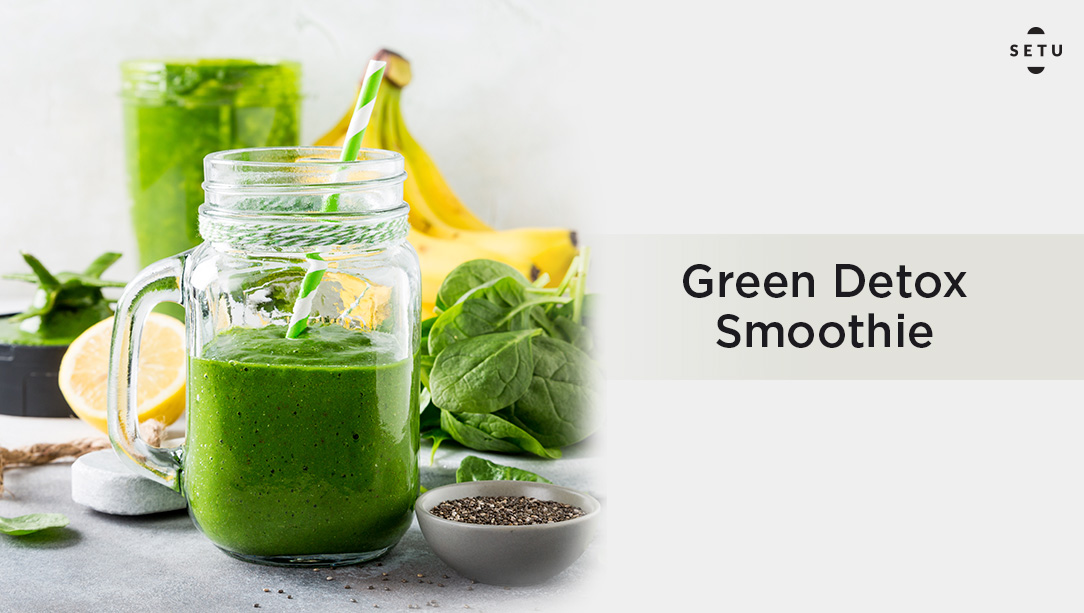 What you Need
2 cups baby spinach
2 cups baby kale
2 ribs celery, chopped
1 medium green apple, chopped
1 cup frozen sliced banana
1 cup water
1 tablespoon grated fresh ginger
1 tablespoon chia seeds
1 tablespoon honey
How to Prepare
Combine spinach, kale, celery, apple, banana, almond milk, ginger, chia seeds, and honey in a blender until smooth. Serve immediately.
Benefits:
Spinach: Boosts kidney and colon functions and chlorophyll contains anti-inflammatory and anti-bacterial properties.
Kale: Filled in anti-oxidants and detoxes the liver and lower cholesterol
Celery: Is a negative calorie food and helps burn calories and in lowering blood pressure
Green Apple: Increases metabolism, improves blood flow and circulation
Bananas: antiviral and antifungal properties that can help promote healthy gut flora and their fiber helps to support daily detoxification by sweeping the intestines clean
DETOX HALDI TEA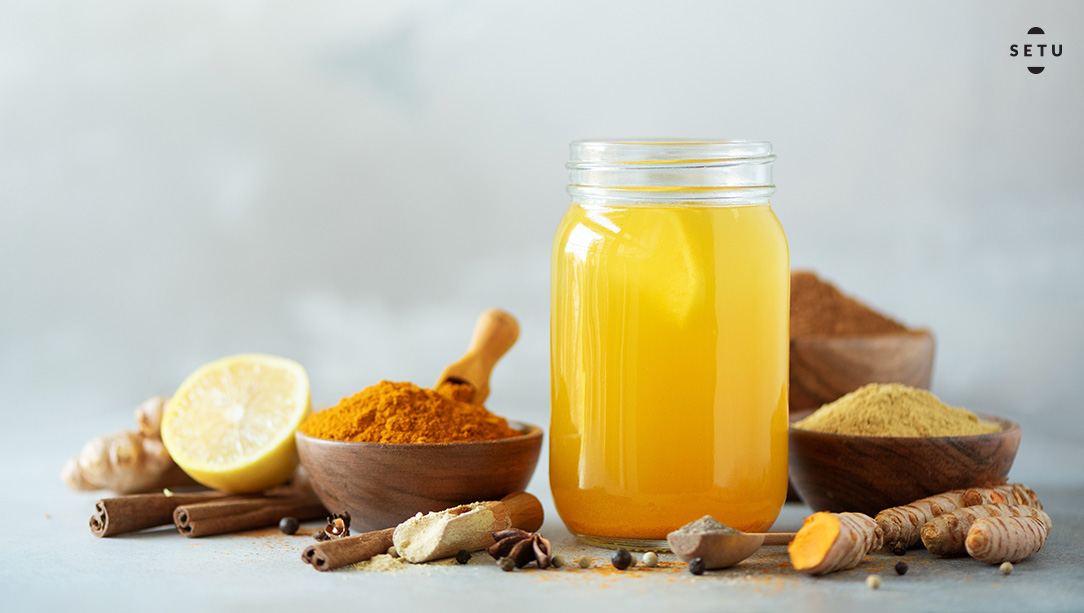 What You Need
1/2 tsp haldi
1/2 tsp ginger, chopped
1/4 tsp Black Pepper
1 tsp honey
2 cups of water
How To Prepare
Boil Water and add all ingredients Bring it to simmer and all the other ingredients. Stir well. Keep boiling the water until it reduces to half. Serve hot
Benefits
Turmeric: powerful liver cleansing spice, hence it boosts immunity by improving liver function
Black Pepper: Reduces inflammation and helps digestion. When black pepper is combined with Turmeric, the curcumin absorption in the body is increased up to 2000% as it magnifies the effects of the properties. 4
Ginger: Contains anti-inflammatory properties that help with bloating
Honey: Helps with digestion and flushing out toxins from the body
APPLE CINNAMON DETOX TEA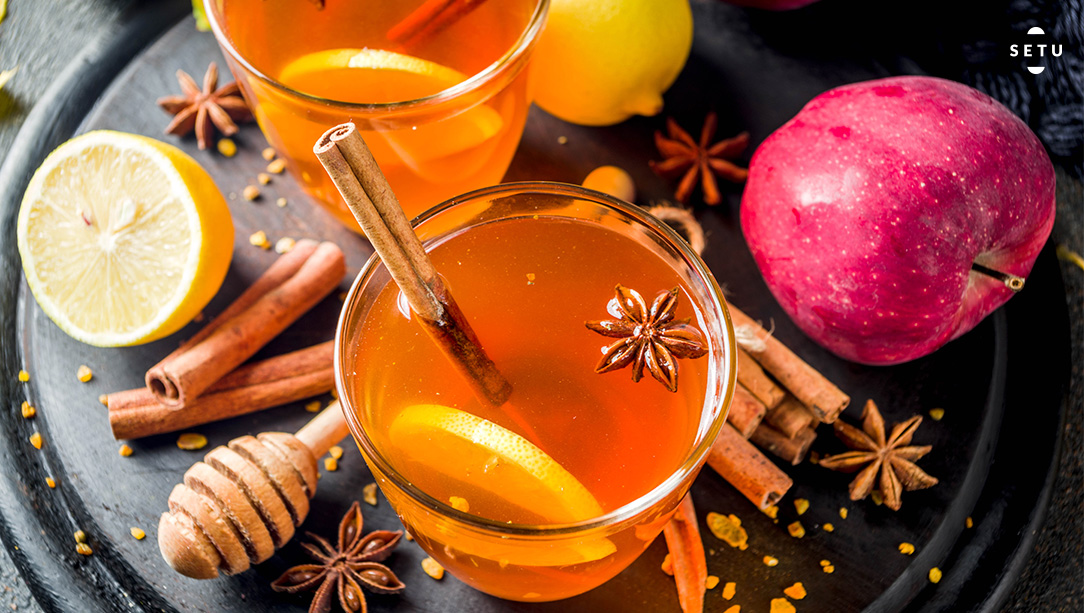 What You Need
2 Cups Water
4 Tbsp Apple Cider Vinegar
4 Tbsp. Lemon Juice (Fresh squeezed)
1 tsp. Ground Cinnamon
1 Pinch Cayenne Pepper
4 Tbsp. Honey (raw honey is best)
How to Prepare
Dissolve cinnamon, cayenne, honey, and lemon in hot water (stir well). Add apple cider vinegar to the mixture. Drink immediately for a warm cup of detox tea and store the rest in the fridge in an air tight container. Can be stored for up to 1 week.
Benefits
Apple Cider Vinegar: Aids in increased energy, suppressing hunger, boosts the immune system, and helps regulate the digestive system
Cayenne: Reduces appetite and blood pressure
Honey: helps flush out impurities from the body and detoxifies the intestines and digestive tract
Lemon: prevents hunger pangs, improves digestion and encourages the production of bile
Cinnamon: Contains anti-inflammatory agents, increases oral hygiene, and fights allergies
CARROT & CELERY CLEANSE JUICE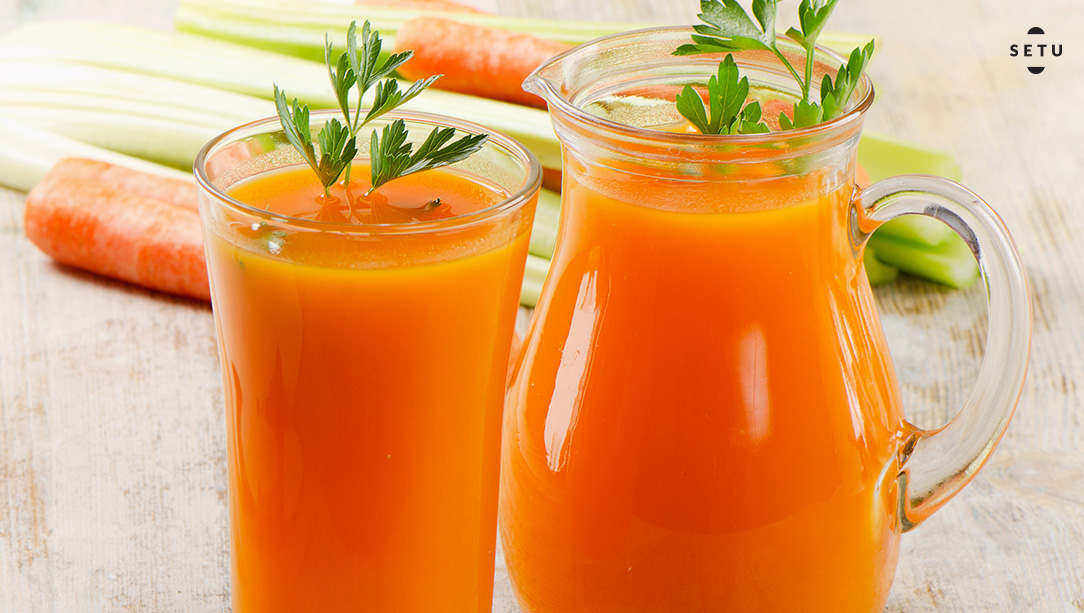 What You Need
1 carrot
1 celery stalk
1 lime wedge
1/2 teaspoon freshly ground pepper
A pinch of salt
How To Prepare
Roughly chop the carrot and celery and toss them into a blender. Give it a spin. Pour the juice into a glass. Squeeze in the juice the lime. Add a pinch of salt and freshly ground pepper. Stir well.
Benefits Carrots: Helps in preventing cardiovascular diseases
Celery: Is a negative calorie food and helps burn calories and in lowering blood pressure
Black pepper: Rich in antioxidants and is an effective antimicrobial agent
Lime: Rich in vitamin C that is known to boost your immunity
CILANTRO JUICE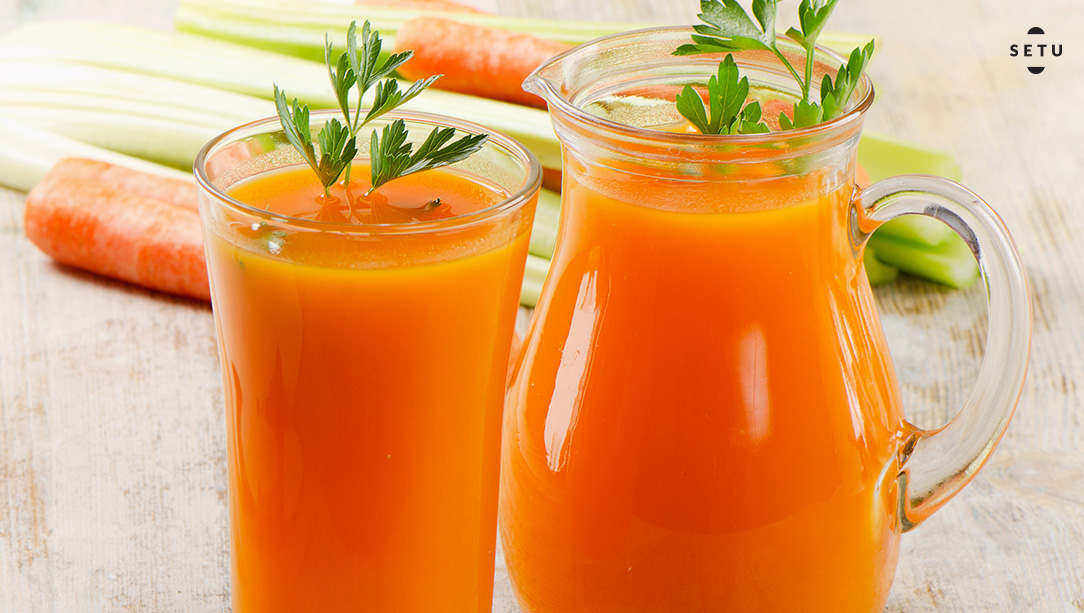 What You Need
1 bunch cilantro
2 fingers ginger
1 lemon
1 lime
3 large cucumbers
How To Prepare
In a blender, blitz the cilantro first. Then add in the ginger, lemon, and lime and give it a blitz. Push cilantro through juicer Add in Cucumber and mix it well. Serve
Benefits
Cilantro: Contains antimicrobial properties,
Ginger: fights germs, inflammation, cancer-causing molecules
Lemon: prevents hunger pangs, improves digestion and encourages the production of bile
Lime: Stimulates the gastrointestinal tract, boosts enzymes to function better and detoxes the liver
Cucumber: Cools the stomach, hydrates the body
REFERENCES:
1. food.ndtv.com/lists/10-delicious-detox-drink-recipes-1684332
2. ncbi.nlm.nih.gov/m/pubmed/14757716/
3. blog.bulletproof.com/detox-drinks-recipes-3c5c/
4. healthline.com/nutrition/turmeric-and-black-pepper