Description
Your daily essential nutrition for healthy hair and skin – Setu Biotin is an amazing natural nutrient to nourish and strengthen your hair, skin, and nails. Also known as vitamin B7, biotin is one of the B complex vitamins that helps convert food into energy. It plays a vital role in a variety of physiological functions of the body, including metabolism and absorption of nutrients from food, as well as cell growth. Setu Biotin (10,000 mcg) is a one-a-day, essential vitamin formulation recommended for both men and women.
Read more



What Does Science Say?
Biotin supplementation has proven benefits for hair and nail health. Read more
Ingredients
Check out the potent ingredients in this product
Product USP

Zero Side Effects
This product is made with high-quality ingredients and poses no known risk of side effects.

Clinically Studied
All the ingredients used in the formula are supported by scientific research for their efficacy.
FAQs
Have questions? Refer to a comprehensive list of queries below.
Dosage
One tablet a day or as suggested by a healthcare professional. In case of accidental overdose contact a physician. Do not exceed recommended daily usage.
Storage
Keep the bottle tightly closed and store in a cool, dry place (15-25°C). Keep out of the reach of children.
Caution
For adults only. Consult your physician before using this product if you are pregnant, lactating, trying to conceive, taking medication or have a pre-existing medical condition.
Declaration



What's Inside?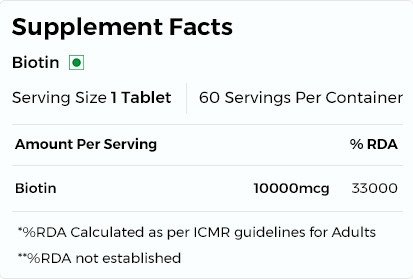 Similar Products
Here are a few other amazing Setu products with similar benefits.