Description
Powerful natural antioxidant for heart health and cellular energy – Setu CoQ10 contains naturally fermented CoEnzyme Q10 that fuels cellular energy, maintains regular blood pressure and healthy cholesterol levels.
CoQ10 deficiencies generally occur due to ageing, lifestyle habits like smoking, consumption of statins, heart conditions and also with certain other disease states. This daily supplement is ideal for those suffering from elevated cholesterol levels or heart diseases.
Read more



Prevents Free Radical Damage
What Does Science Say?
CoQ10 supplementation increases the level of HDL cholesterol (good cholesterol) in patients suffering from coronary heart diseases. Read more 
CoQ10 functions as an antioxidant that protects the body from damage caused by harmful molecules known as free radicals and can help prevent some of the damage they cause like damage to cell membranes, tamper with DNA, and cell death.  Read more
There is an increase in the levels of an active form of CoQ10 in long-term smokers as an adaptive response to oxidative stress induced by smoking. Nevertheless, this response induced by smoking should not be interpreted as beneficial, because smoking per se causes a wide range of harmful effects. Read more
Ingredients
Check out the potent ingredients in this product
Product USP

Superior Absorption
This product is coupled with MCT and Lecithin to enhance the absorption of CoQ10.

Zero Side Effects
This product is made with high-quality natural ingredients and does not have any side effects.

Clinically Studied
All the ingredients used in the formula have consistent supporting scientific research for their efficacy.
FAQs
Have questions? Refer to a comprehensive list of queries below.
Dosage
Take 1 softgel with breakfast.
Storage
Keep the bottle tightly closed and store in a cool, dry place (15-25°C). To be stored out of the reach of children. Not to exceed recommended daily use.
Caution
For adults only. Consult your physician before using this product if you are pregnant, lactating, trying to conceive, taking medication or have a medical condition. THIS PRODUCT IS NOT INTENDED TO DIAGNOSE, MITIGATE, TREAT, CURE OR PREVENT ANY DISEASE.
Declaration




What's inside?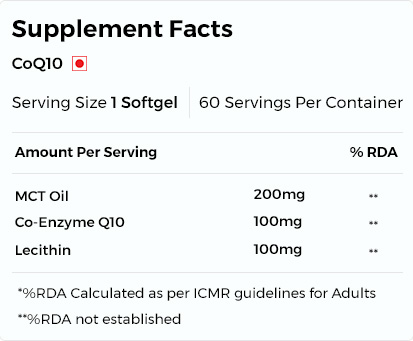 Similar products
Here are a few other amazing Setu products with similar benefits.

Weight

Energy

Fitness
A plant-based formulation that promotes fat loss & boosts metabolism.
₹ 1400

Energy

Weight
Powerful antioxidant for optimal liver function and natural detoxification.
₹ 700