Setu Eye Max

Our flagship eye product, offering comprehensive protection

Eye
4.6 / 5
Helps filter harmful blue light from digital devices

Moisturizes and soothes tired and fatigued eyes

Improves your sleep quality

Aids visual performance and enhances eye health
Get your daily dose of comprehensive eye protection

Eyemax
For adults: Take 1 tablet daily after breakfast or lunch.
Each tablet contains clinically validated Lutemax2020® extracted from marigold flowers, along with bilberry and beetroot extracts, all of which combine to relieve eye strain, help moisturise dry eyes, reduce eye fatigue and enhance visual acuity.
Being a mover and shaker can be bad news for your eyes, especially if it involves staying glued to screens for hours at a stretch—harmful high energy blue light can take its toll. If going back to pen and paper isn't an option, try Eye Max. Powered by natural extracts, this eye vitamin formula keeps your eyes healthy by filtering harmful blue light. Good news for your eyes and your career!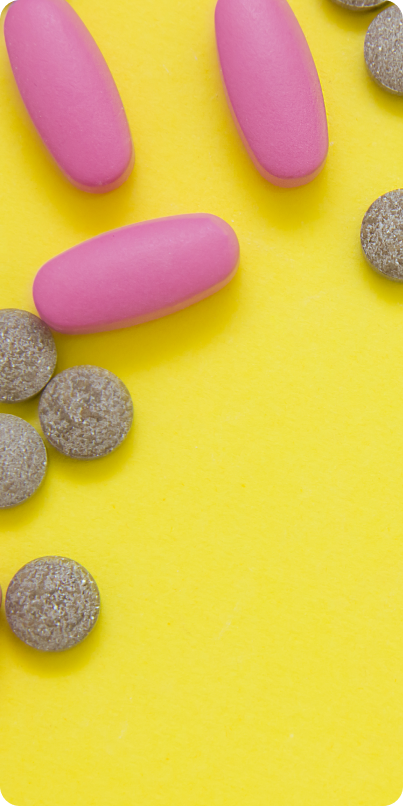 Gagandeep singh
using Setu since 3 months
Due to my job I have to stare screens whole day and that's why my eye tired and dried all time. I am very conscious about my eye and frequently using eye lubricant drops but not getting enough results and then I tried Eye max. Really happy with this product. It is really effective for me and highly recommend to every eye lover. Definitely will add this product in my subscribe list and want to try in gummy version.
Anukalp mishra
using Setu since 5 months
im using this product since a year and results are good
Pradeep Sarode
using Setu since 6 months
Using Setu Eye Max from past one month, Eyes feel cool and I use lens due to which I face dryness in Eyes, now it is solved
Gaurav Mishra
using Setu since 8 months
I do a lot of work on PC, this supplement helped a lot. Thanks Setu keep up the good work
SHIVAM SINGH
using Setu since 9 months
Good for eyes specially for users with busy schedule on computers
Shaktivel Vedagiri
using Setu since 11 months
Being an IT professional this product really helps me to protect my eyes from blue ray effects of my monitor.
Aashish Kumar
using Setu since 11 months
Like every person nowadays my day starts by looking at my phone and ends by looking at my phone this has caused great damage to my eyes and I was always looking for a solution to solve this problem so when a friend of mine recommended Setu eye max I gave it a try. I am really impressed with the product the irritation and the tiredness in my eyes has drastically reduced since I started using the product and my overall vision has improved. I recommend the product to anyone who is facing the same problems.
Amandeep Choudhary
using Setu since 12 months
I am Website Developer, Mostly working at Night and always using PC, Mobile, T.V I got eye pain and Right eye become reddish, Finally, I found a solution that is SETU EYE MAX. I bought 3 packs after 1 pack purchase. Now no Eye pain and I am feeling much better.
Your trust is our top concern, so we do not alter or remove reviews.
Your trust is our top concern, so we do not alter or remove reviews.
Related Products
Why this product?
Exposure to blue light can affect your sleep cycle. Setu's Sleep:Restore is formulated with 5mg of melatonin to help you sleep better.
Here are a few commonly asked questions about this product. If you'd like to know more, please write to us at contact@setu.in
Blue light is part of the visible light spectrum. It has a higher potential to penetrate the eye than other colours because of its energy, and excessive exposure can be harmful to the retina. Blue light is emitted by most screens we use to on a day-to-day basis, like our mobile phones, tablets, and laptops.
Lutein and zeaxanthin are commonly known as eye vitamins. They are a category of carotenoids that protect your eyes against harmful UV and blue light rays. Additionally, they also give protection against retinal macular degeneration, blurry vision, and cataracts.
Bilberry is a plant that comes from the same family as blueberry. It helps the retina shift between light and dark vision, and also helps your eyes focus better during different activities throughout the day and night.
N-Acetylglucosamine (aka NAG) is a natural sugar found in the body embedded deep in our cell walls. NAG helps create hyaluronic acid, which moisturises the skin, strengthens joints, and lubricates the eyes.
Need more guidance? Take the Sense Test.
Take a quick health consultation and leave the rest to our experts.
View More Details about Health and Nutrition
View More Details about Health and Nutrition
We all know that we shouldn't be staring at screens for long hours as it's not healthy for the eyes. But it's hard not to do so since most of our work happens online. How then do we care for our eyes? Here's where Setu's Eye Max supplements can help.
Our eye care supplements protect your eyes from damage caused by the blue light emanating from computer and phone screens. They also improve eyesight and reduce eye strain. By consuming these eye supplements, you can enjoy healthier eyes in an increasingly digitised world.
Product Description
Setu's Eye Max is an eye tablet that contains eye vitamins and natural extracts of fruits and flowers rich in macular nutrients. These vision supplements boost overall eye health and prevent eye problems like eye pain, watery eyes, headaches and eye fatigue caused by overexposure to screens.
What Goes Inside
Each Setu Eye Max eye tablet contains Lutein and Zeaxanthin, which are eye vitamins. Studies show that Lutein plays a crucial role in preventing retinal damage caused by blue light. Other ingredients in these eye vitamin supplements include N-Acetylglucosamine (NAG), a natural sugar that lubricates your eyes and natural extracts.
What's it for?  
Setu Eye Max tablets are perfect for anyone who spends a lot of time on their phone or in front of a computer or television screen. These supplements for eyes filter the harmful blue light radiated from digital devices, moisturise eyes, improve sleep quality, and enhance vision.
Benefits of Setu Eye Max
These eye tablets contain Lutein, which is extracted from the marigold flower. Lutein is packed with macular nutrients that strengthen the retina, improve cognitive performance and prevent eye fatigue and headaches.
These eye tablets contain beetroot powder which is known to prevent macular degeneration in the eyes and even improve heart health.
Setu's eye vitamins supplements keep your eyes moisturised so that you don't experience dry eyes, eye pain or eye fatigue.
Less stress on your eyes means a better night's sleep. Consume our eye supplements to enjoy better sleep quality as well.
Shop for Setu Eye Max supplements today to say goodbye to dry eyes, eye pain and fatigue brought on by long hours in front of your computer!
Ingredients
Lutein and zeaxanthin are carotenoids that protect your eyes against harmful UV and blue light rays. They are also known to prevent retinal macular degeneration, blurry vision, and cataracts.
This natural sugar is found in the cell walls of your body. It lubricates the eyes, boosts joint mobility and also moisturises your skin.
This superfood has loads of benefits for your eyes. Beetroot powder helps fight macular degeneration, improves nerve functioning and prevents cellular damage in the eyes.
Bilberry is an inky-blue fruit that is rich in antioxidants. Extracts from this fruit reduce inflammation of the ocular tissue and oxidative stress caused by exposure to blue light. This extract can also help reduce age-related eye disorders, enhance your adaptability to low light and fight hyperglycemia!
How to Use Setu Eye Max
The dosage for adults is one tablet per day
Consume these eye tablets daily to enjoy best results
Take the tablet after breakfast or lunch for optimal absorption
FAQ's 
What is blue light, and how does it affect my eyes?
Blue light is part of the visible light spectrum. It has a higher potential to penetrate the eye than other colours because of its energy. That is why overexposure to blue light can damage the retina. The screens of most gadgets we use today like mobiles, tablets and laptops emit blue light.
Can Setu Eye Max tablets improve my eyesight?
While these supplements contain ingredients that strengthen the eye and enhance vision, they are in no way a replacement for spectacles, eye drops or any other eye treatments suggested by your doctor. Long-term use of these supplements can complement your existing treatment plan and boost eye health.
Is Setu Eye Max a prescription medicine?
Setu Eye Max is not a medicine. These are naturally sourced, clinically-researched eye supplements that have proven health benefits. All our supplements are backed by science and are safe for regular consumption.