Description
Feel great every day and boost your immunity with Setu Vitamin C Fizz. Our delicious orange-flavoured fizzy drink is a sugar-free formula with 1000 mg of vitamin C – an antioxidant that helps support the immune system by neutralizing free radicals in the body. It is also essential in supporting healthy skin, gums and increasing iron absorption. Just drop one tablet in a glass of water and enjoy your drink.
Read more



What Does Science Say?
Vitamin C is a potent water-soluble antioxidant that can reduce oxidative stress and can also regenerate the important antioxidants glutathione, and vitamin E. Read more
Ingredients
Check out the potent ingredients in this product
Product USP

Sugar-Free
Our 100% sugar-free formula makes it ideal for people of all ages.

Clinically Studied
All the ingredients used in the formula have consistent supporting scientific research for their efficacy.
FAQs
Have questions? Refer to a comprehensive list of queries below.
Dosage
Take 1 tablet per day or as directed by a healthcare professional.
Storage
Store in a dry, well-ventilated place at a temperature not exceeding 25 degrees celsius. Protect from direct sunlight. Keep out of reach of children. Replace the desiccant cap tightly after every use.
Caution
For adults only. Consult your physician before using this or any other product if you are pregnant, lactating, trying to conceive, taking medication or have a medical condition. THIS PRODUCT IS NOT INTENDED TO DIAGNOSE, MITIGATE, TREAT, CURE OR PREVENT ANY DISEASE.
Declaration



What's Inside?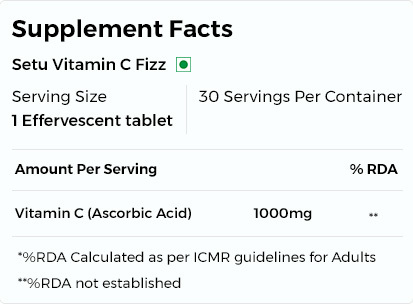 Similar Products
Here are a few other amazing Setu products with similar benefits.