Description
Setu Lutein gummies build a natural nutritional filter against harmful blue light from digital devices – protecting you from long-term damage and its symptoms. This yummy gummy in a grape flavour contains clinically validated Lutemax 2020, a natural extract from marigold flowers, that absorbs harmful blue light and improves visual performance.
Read more



Boosts Cognitive Function

Helps Improve Sleep Quality
Ingredients
Check out the potent ingredients in this product
Product USP

Patented Lutemax® 2020
The supplement contains a patented combination of the two most important carotenoids that impact vision in a 5:1 ratio of Lutein to Zeaxanthin.

No Added Gelatin
Lutein Gummies are made with pectin, which is a plant-based ingredient. These gummies as supplements are perfectly safe for vegetarians..

Zero Side Effects
This product is made with high-quality ingredients and does not have any side effects.
FAQs
Have questions? Refer to a comprehensive list of queries below.
Dosage
For adults: chew up to 2 gummies daily.
For children up to 18 years: chew 1 gummy daily.
For best absorption chew gummies after a meal.
Storage
Keep the bottle tightly closed and store in a cool, dry place (15-25ºC).
To be stored out of the reach of children.
Caution
Consult your physician before using this or any other product if you are pregnant, lactating, trying to conceive, taking medication, or have a medical condition.
Declaration



What's Inside?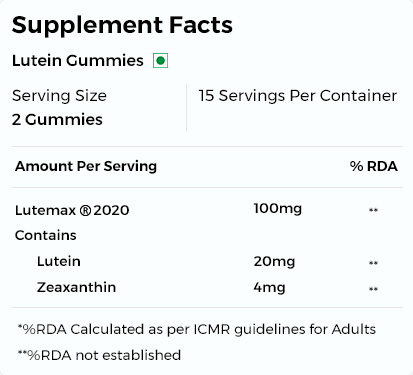 Similar Products
Here are a few other amazing Setu products with similar benefits.

Mind

Stress

Sleep
Superior eye protection from blue light in the digital age.
₹ 1100

Sleep

Stress

Mind
A non habit forming sleep solution to restore your regular sleep cycle.
₹ 500